---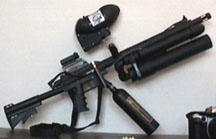 Bill Mills, of Warpig fame, recently submitted these photos and description of his DethRay 2000.
I guess it was a matter of time till one of the most famous Stingrays on the internet and one of the most famous aircannons on the internet merged!
The 2000 is the latest incarnation of the original DethRay. Last year I swapped the barrel for a Remora and LAPCO Autospirit barrel. While it's a bit more picky about paint quality than my custom steel barrel, it's got tighter groupings with good paint.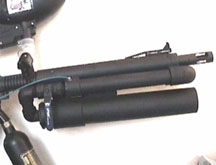 The M416 underbarrel aircannon is a ball valve aircannon with a 2"dia barrel and 1" dia airchamber that wraps around both sides of the barrel shroud. The barrel shroud is 1.5" dia PVC. The entire aircannon is mounted to it. The shoud slides over the front of the receiver, and the barrel lock pin goes through it holding it in place. The muzzle of the barrel mates up to the inside of a custom reducer on the front of the receiver, and there is a cosmetic flash supressor. The barrel of the aircannon slides forward off of the breech for re-loading. The aircannon's air chamber is recharged automatically by a Palmer Rock regulator which is mounted on a tee between the vertical ASA and the Stingray (with the low pressure hose acting as an emergency blowout to prevent overpressuring of the PVC). The vertical ASA is a modified Stingray Donkey attached with screws to the grip frame. The male ASA in the back is actually the front of the Stingray quick changer cut off and tapped for the hose.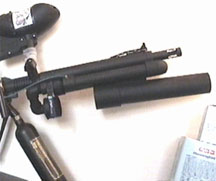 On the top is a ProTeam Stingray power feed, ICD raised sight rail and ProTeam Pro-Dot sight. At the rear is a USA Performance Products (Viper M1) Telescoping Stock on a PVC mount. The trigger pull is a tad over 2mm, with a stepped sear. With the safety on, it fires as semi-automatic, with the safety off, the trigger can be pulled all the way back for full-auto. While paint won't fall fast enough to keep up with the full auto rate, it can cause quite a surprise.
See you on the field,
Bill Mills
---

© Stingray Toters INternet Group