---
[Gallery #1] [Gallery #3] [Gallery #4] [Gallery #5] [Gallery #6] [Quake's Gallery]
---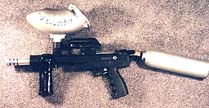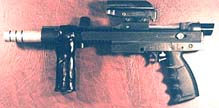 Here are some pictures of my modified Stingray II. It features polished internals, polished barrel (inside and out), venturi bolt, custom wood foregrip, completely adjustable trigger job, reduced profile hopper, and chrome painted hopper and tank. I have also modified the exterior, mostly by removing the hollow part in front of the trigger, sanding off the ridges on the side, and cutting off part of the sight rail to reveal the transfer tube. All visible metal has been polished. Submitted by Mike Borzcik
---
| | | |
| --- | --- | --- |
| | Check out Stephan "Duck" Howard's customized 'Ray based on the "pulse rifles" from the Aliens 2 movie. Great job Stephan! | |
---
| | |
| --- | --- |
| | Here is a photo of Skye Maloney and one of his friends, Chris. Chris is the one on the left with the Prolite, and Skye is the one with the Stingray on the right. Skye is also, obviously, something of a graphics artist. Great job, Skye! |
---
| | |
| --- | --- |
| | Here is a photo of Van "Stormbringer" McCune. Van is a retired Highland Games player, and the kilt was part of the uniform. Van's best event was the hammer throw, thus the nickname "Stormbringer". |
---
Josh Orr's Stingray

with a Quake bottomline block installed
---

Qirien, STING #48
---
Andy McFadden's McRay 2
---

Our latest long-distance member, Olav Roda from Norway!
---
Check out new member Jeff Wilkins' RADICALLY altered 'Ray!

---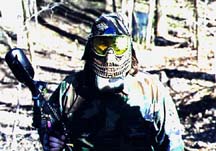 Submitted by Carl Parker (Toxic Avenger)
---
Submitted by Kyle Horn (aka Spiral)
My paintball gun is green and has a few major upgrades. The first few are the J&J barrel, 150 round hopper, and the different color. If you're wondering why I chose the 150 round APP hopper it is 1) because a 200 view loader is just too large, and 2) all I had to do to make an elbow for my Stingray 1 was to go to my local hardware store and buy a PVC schedule 40 3/4" elbow. The other things that I have done to the 'Spirila' is modified the stock barrel by porting it; modified, shorter trigger pull; and added pennies and enlarged velocity adjustment hole to gain on FPS's (velocity). A few things I do to keep my gun running is I use ATF (Automatic Transmission Fluid) fluid as a lubricant and stuff like cleaning and polishing the internals once in however many months depending on how much I play.
---
Check out the "Sugar Ray"!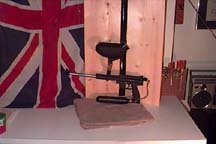 ---
Submitted by Bill Hamilton
This is a picture of my stingray. Modifications include: Vertical adapter, converted VM-68 Back-Bottle Adapter, M-16 Style Grip with bottomline, Venturi bolt, Rear cocking, 16" internally rifle J&J VM-68 Barrel, off set sight rail, two finger trigger, shortened trigger pull (it's shorter than my mag, yes I also own a Automag).
If you've got any questions about it e-mail me, I'd be happy to answer them.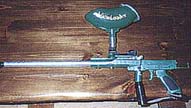 ---
---

© Stingray Toters Internet Group