Quake visits LAPCO!

March 8, 1999

Here is a photo of me sitting in the LAPCO cockpit. I recently had the opportunity to visit the LAPCO world headquarters in San Diego, California, and to finally meet Colin Thompson. We had a great time sitting around, shooting the breeze, and getting to know each other, as well as enjoying ice cream together. What a genuine nice guy - I truly enjoyed myself!
---
Paintball Sam's Toys for Tots Big Game

November 15, 1998

Well, it's that time of year again. Thanksgiving, Christmas, family... and Paintball Sam's annual Toys for Tots Big Game! This annual big game is very popular, drawing hundreds of rec players and pro's alike together for a day of fun, excitement, and comraderie.

This was my second Big Game, and I had a great time! My son, Chunk, couldn't make it this year, but my brother-in-law, Grog, was there.

Here I am sporting my new Bad Ass mask, harness, and, of course, my trusty Stingray.
The play was brutal! Grog and I were on the Red Team, and the Blue Team annihalated us! By the time we got to the insertion point at the top of the hill, the Blues had ALL the forts. We started out by being pinned down. It seemed like every time we took out a Blue, two more took their place. The Reds were dropping like flies!

We were getting hit repeatedly. But one really good thing about being Quake is softness - most of the balls were bouncing right off me! (They still hurt, though!) The numbers were against me, however, and one finally broke on my mask. (Check me here! Check me there! SPLAT! Never mind...)
I know this is a terrible photo, but here we are - the "Hairy Horde"! This is Grog and me, looking tough. (It's really hard for a couple of marshmallows to look tough, though!)

Grog has his dependable Palmer Typhoon, and a black Bad Ass mask. I've got my 'Ray, and O.D. Bad Ass. I played with my Alley Cat in the VIPs vs. Everybody Else Game.

As you can see, the weather was gorgeous! The sun, which ruined this photo, was out all day, but the temperature remained very comfortable. Couldn't have asked for a better day!
| | |
| --- | --- |
| | Guess who flew all the way from Florida just to meet me? (Okay, they didn't fly out just for me!) That's right, those are fellow Stingers Bill and Dawn Mills from Warpig! Boy was I surprised to see them there! It was really great getting to finally meet them. What a nice, nice couple. |
---
Paintball Sam's Paintball Park, Rancho Murieta, Calif. (about 30 miles east of Sacramento). This was the scene of their Big Game VI, a benefit for the Toys for Tots charity. This was Chunk's first time playing, and he did VERY well! He tagged at least two other players, and got right in there and mixed it up with the adults! (Joe is 11) A true Stinger at heart! (Yeah, I'm a proud father!)
The Big Game was immensely fun! About 265 players showed up, including 15 VIPs. The photos here are of the VIPs against the Players game. I chose not to play in this one, so I co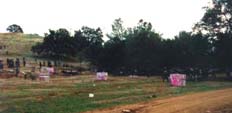 uld take some pics. Let me tell you, it was downright incredible! If you've never heard 265 paintball guns ALL shooting at once, you haven't lived! It was a literal WALL of paint. To their credit, the VIPs held their own, for almost a half-hour. I think that's pretty good, considering the odds against them! I was accross the road in the parking lot, and paintballs were even bouncing around me! (Yes, I had my mask on!)
---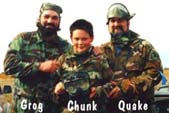 The photo you've all been waiting for! That's me, Jim (aka Quake) on the right. The handsome guy next to me, is my son, Joe (aka Chunk). The guy on the left, is my brother-in-law, Bob (aka Grog). This was taken at Paintball Sam's Big Game VI, November '97.
Joe and I didn't have our Stingrays yet, Santa Claus brought them to us on Christmas. We had my two WGP Ranger pumpguns, and (Blech!!) rental Automags. We like our 'Rays much better!
Bob's not a Stinger, although he plays like one. He has a Palmer Typhoon. He plays agressively, intelligently, and with intensity, yet he's consumately fair. He's also very helpful, and has never met a stranger in his life! Bob is the reason I started playing. He's a great guy!
A few words about our nicknames: Joe got his, Chunk, from the movie Goonies. (Those of you that have seen the movie will understand!) Joe gave me mine, Quake, because "that's what I cause when I fall down"! (Yeah, he's a regular comedian. He once told me that "the last time I saw 90210 was on a scale"!) I got Bob's, Grog, from the comic strip BC. (I told Bob one time that I was going to fill a squirt-gun with "Nair" and put my initials in his back!)
---
| | |
| --- | --- |
| | Here are our 'Rays. Chunk's on top, Quake's below. Both are modified Stingray 1's. Chunk uses a Daisy Electronic Sight and I use a Champ. They both have had their shrouds trimmed (circumsized?), barrels ported and polished, internals polished, and had Quake's Ultimate Trigger Job done. Chunk's now has a custom Vertical Tank Mount. |
| | |
| --- | --- |
| | Here is a closeup of my Champ sight. I replaced the screws with knurled thumbscrews for easy removal. Sometimes I like to put a riflescope on my 'Ray. It's pretty worthless, but it sure looks cool! |
| | |
| --- | --- |
| | A closeup of our barrel shrouds and muzzle porting. Both barrels were ported with a Dremel tool and cutoff discs. I did my ports straight and Chunk did his angled. Like my custom machined aluminum barrel plug? |
| | |
| --- | --- |
| | Not a Stingray, but another plastic gun. This is an old, ugly, green, HUGE, Splatmaster pistol that I use as a backup. It uses 12 grams and 10 round tubes for magazines. |

© Stingray Toters Internet Group