---
The Side by Side Bottomline
Here is yet another fun little doodad from LAPCO Paintball - the Piggyback adapter. This adapter and two bottomlines (duckbills), along with the necessary hardware, will allow you to mount two 7 oz. (or similar diameter) CO2 tanks on your 'Ray.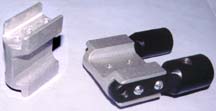 The Piggyback adapter is constructed from aluminum, and has two "slots" with pre-drilled holes for two either two-hole or three-hole bottomlines. (Facing the camera is a three-hole bottomline.) In its unaltered form, the adapter will mount two tanks in an over/under configuration to the bottomline block. To mount them side by side, you'll need to drill two holes in the flat area between the bottomlines.

The arrows indicate where the two 3/16" holes need to be drilled in the adapter. Be sure they're centered, or the tanks will be crooked.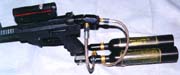 As pictured here, you'll need a bottomline block in your Stingray's grip to mount the Piggyback adapter. You'll also need a couple of fittings and hoses. Various hose configurations are possible. The configuration shown here requires a Dual Adapter, two hoses with AN fittings, two 1/8" NPT male to male AN straight adapters, and one 90 degree adapter.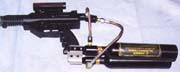 Bottom view. As you can see, I've mounted one bottomline to have the hose adapter on the bottom, and the other on the top. This is to keep the right-hand hose adapter out of the way of your hand when gripping the gun. With the other adapter on top, I was able to use a shorter hose to the dual adapter. With a longer hose, I could have just as easily mounted both adapters on the bottom. You will also need two 90 degree AN adapters and two straight.

The other version involves the use of a 1/8" NPT street tee instead of the dual adapter. It also requires two 90 degree AN adapters and two straight.
Whether you use the dual adapter or not, you'll need a reducer to attach the hose to the gun.

You can also use the Piggyback adapter to mount the tanks in an over/under configuration. You won't need to drill any holes in the Piggyback to use it this way. Two 10-24 x 3" screws run up through the adapter and both bottomlines into the bottomline block. The fittings I used are a 1/8" NPT branch tee, one 90 degree AN adapter, and three straight AN adapters. I mounted both bottomlines so that the fittings stick out on the left side, to keep the hoses away from my hand when I grip the gun.
One thing I noticed with the side by side mount - the tanks have a tendancy to bang together, making a ringing noise. I simply wrapped electrical tape around the ends of both tanks to eliminate the noise.
---


© Stingray Toters Internet Group