---
[Gallery #2] [Gallery #3] [Gallery #4] [Gallery #5] [Gallery #6] [Quake's Gallery]
---
Here are some pics from one of our Canadian Contingent, Tom Holder. The first pic is Tom, of course. The next pic is of a Tiger Shark and two TS1s. The last pic is Tom's "Badass" Stingray.
---
Here are a couple of pics of Sam Moore's (The Dread Pirate Roberts) awesome Stingray!
---
| | |
| --- | --- |
| | Now THIS is a Stingray! David Risner (STING #84) is a toolmaker by trade, and his 'Ray obviously reflects his craft. Nicknamed "The Mechanic", David's love of tinkering has taken his Stingray to a new level of technology! |
| | |
| --- | --- |
| | Says The Mechanic, "This photo shows an early view with the Simmons point sight, and if you look close you can see the aluminum breech section added in front of the feed port as well as the tapered bull barrel (the muzzle brake ports are a little hard to see). If you look at the bottom of the grip, you can see the cap stripper (I like to play 12 gram and use 10 round tubes - it makes for an interesting game)." |
David continues, "I replaced the internals with components of my own manufacture with better materiels and tolerances. Besides, I hate Zamack (pot metal). The feed elbow is also made of aluminum.The foregrip is spring-loaded and pulls down alligator mouth fashion to release the barrel for cleaning. You can see the 'Stinger' sight rail that I replaced the point sight with, and the taper of the barrel."

David has promised to send some more photos as soon as he can. I can't wait to see them. Excellent job, David!
---
Here are some pics from STING member Steve Rippe. They are of his son, David, with his trusty Stingray 2.
---
This is fellow Stinger William Drewel, Jr.'s (aka "Exocet") senior portrait. He is going to be sending a photo of himself with his 'Ray, which I will post here.
---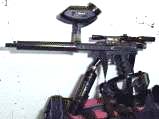 Bill Mills' original "Dethray". Now THAT'S a gun to strike fear into the hardiest of players! I wonder how he got the CO2 tank to mount diagonally? Maybe he would be kind enough to tell us... (Hint, hint!)
Photo courtesy Warpig
Dawn Mills' "Barney", a purple Stingray. That's right, a purple Stingray. She must be a pretty tough player to show up on the field with a purple Stingray! (From what I hear, she is a VERY tough competetor!)

Photo courtesy Warpig

---

The ORIGINAL Stingray! USS Stingray (SS-13), a U.S. Navy submarine from the 30's. It has a slightly larger bore than .68"!

And, of course, the ORIGINAL Stingray 2! USS Stingray II (SS-186), a U.S. Navy submarine from WW2.
---
---

© Stingray Toters Internet Group