---
[Gallery #1] [Gallery #2] [Gallery #3] [Gallery #5] [Gallery #6] [Quake's Gallery]
---
BobTheFish56
My real name is Bill Fiser, and here are two pics of my gun. The mods I have done are a camo paintjob, red painted Stingray logos (close-up provided), polished internals, two penny trick, 11" Armson rifled and ported barrel, BE red dot sight, spiral ported stock barrel, and I am working on a trigger job.
---
---

Ever seen a Stingray run on HPA?
This is Bill Mills with his Dethray (sans the air cannon) and a remote HPA setup. This is the color version of a photo that appeared in the first issue of Paintball Magazine.
Photo by Dawn Mills. Shown with permission.
---
---
---


My buddy Kevin and I just got finished with our Stingers. We have had them for 3 days and wanted to send you pictures of the finished product. We ported and polished the barrel, and polished all the internals. Then we mounted the CO2 tank where you see it in the pictures. We used alot of your ideas and a few of our own. I think we did pretty well considering it was our first time out. Anyway we thought you might want to put the pictures on your web page so people can see that even a couple of idiots can do your modifications!
John and Kevin
---
My name is Shawn Coleman and this is my 'Ray2. I love this gun, it is the best. It has polished internal parts including the barrel, and I put 2 pennies between the donkey and the hammer spring to get more velocity. I also have a 20oz tank for it, a VL200 round hopper, Brass Eagle Z-Leader mask, squeegie, and a B.E. gun carrying case. The chrome that is on the gun is a chrome tape that is like aluminum foil.
---
| | |
| --- | --- |
| | Check out this Ray by Dave Johnson (aka Fubarius). It's got a vertical mount, a double trigger, a hand guard, and more! (Many more photos - follow the link) |
---
Andy McFadden's (and his brother's) Stingray
---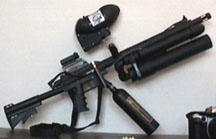 Check out Bill Mills' new Dethray 2000!
---
Scopes' customized Stingray
---
HP Raptor's customized Stingray
---
---

© Stingray Toters Internet Group