---
[Gallery #1] [Gallery #2] [Gallery #3] [Gallery #4] [Gallery #6] [Quake's Gallery]
---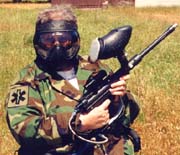 Stingray Grabbin' Granny!
This is my mother, Freda, "Gramma Freda" to my son. She joined us for lunch at my son's recent paintball birthday party. While there, she caught Stingray Fever! She borrowed my son's Ray and his mask (and my shirt), and went to the range for some target practice. She's a pretty good shot, too. Every time she'd hit a target, she'd giggle like a kid! She had a great time, and I'm glad I could share some Stingray fun with her. I love you, Mom!
submitted by Quake
---
Here are a couple of new pics of the Quakeray, showing my new Grip Guard and expansion chamber that I got from Sugar Ray. Boy, is this thing heavy!
Submitted by Quake
---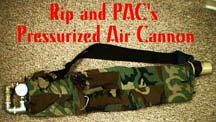 Here is my Air Cannon. A friend of mine worked on it with me and also split the cost, so I added his name on the picture, too. It includes a 3' barrel, 2.5' air camber, a camoflauge cover, a pressure gauge, a shoulder strap, and a ramrod holder.
Submitted by Rip Fiser
---
Some more photos from Dedfella
---
Check out the paint job on Gunner's Stingray 2. Great job!
---
---
---

© Stingray Toters Internet Group